.
For the prices or for order, please contact your sales representative
Kemex
.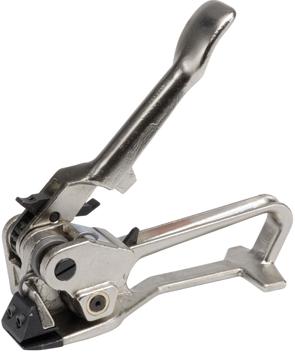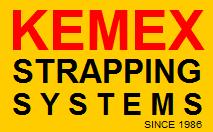 Safety manual and Operation
DTP-100UL MANUAL TENSIONER
GENERAL SAFETY CONSIDERATIONS:
Kemex
Strapping Systems 1850, Transcanadienne,
++++.
Dorval (Québec)
+ + .
Tél:
514-685-1119

+++++.

800-755-3639

++
.
+..
Fax: 514-685-2228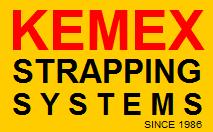 1. EYE INJURY HAZARD.
Failure to wear safety glasses with side shields can
result in severe eye injury or blindness. Always wear
safety glasses with side shields which conform to ANSI
Standard Z87.1.

2. STRAP BREAKAGE HAZARD.
Improper operation of the tool or sharp corners on the
load can result in strap breakage during tensioning,
which could result in the following:
. A sudden loss of balance causing you to fall.
. Both tool and strap flying violently towards
your face.
Failure to place the strap properly around the load or on
an unstable or shifted load could result in a sudden loss
of strap tension during tensioning. This could result in
a sudden loss of balance causing you to fall.
Read the tools operating instructions. If the load
corners are sharp use edge protectors. Place the strap
correctly around a properly positioned load.
Positioning yourself in-line with the strap, during
tensioning and sealing, can result in severe personal
injury from flying strap or tool. When tensioning or
sealing, position yourself to one side of the strap and
keep all bystanders away.

3. FALL HAZARD.
Maintaining improper footing and/or balance when
operating the tool can cause you to fall. Do not use the
tool when you are in an awkward position.

4. CUT HAZARD.
Handling strap or sharp parts could result in cut hands
or fingers. Wear protective gloves.

5. TRAINING.
This tool must not be used by persons not properly
trained in their use. Be certain that you receive proper
training from your employer. If you have any questions
contact your

Kemex

Representative.

6. TOOL CARE.
Take good care of the tool. Inspect and clean it daily,
lubricate it weekly and adjust when necessary. Replace
any worn or broken parts.

7. WORK AREA.
Keep work areas uncluttered and well lighted.
STRAP SPECIFICATIONS
Width: 3/8" to 3/4" Steel
Gauge: .015 to .023" Thick

OPERATING INSTRUCTIONS:
1. Thread the strap through the seal. Encircle the bundle and thread the strap through the seal again. Bend the lower strap back sharply beneath the seal and pull out all slack strap.









2. Squeeze the handles together to lift the feedwheel. Insert the strap into the slot of the breaker nose and push the tool up against the seal.



3. Stand to one side of the strap line and tension the strap with forward and backward motions of the tension handle.

4. When desired tension is reached, push the drive pawl forward and rotate the tension handle back to contact the lift arm.

5. Notch the seal with a Delta sealer to complete
the joint.

6. Break off the strap at the seal by raising the tool perpendicular to the seal, then lowering it.


OPERATING INSTRUCTIONS: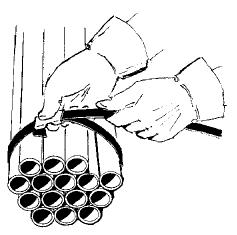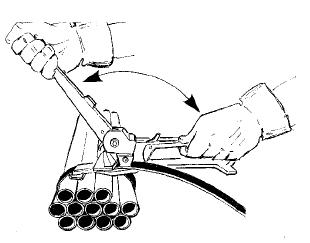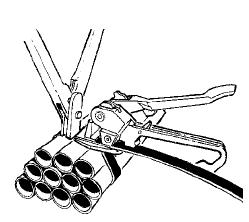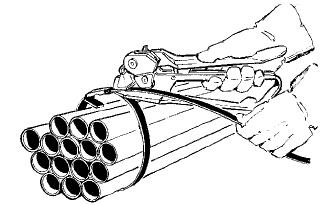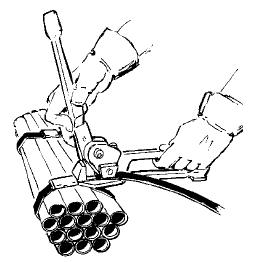 3.