.
For the prices or for order, please contact your sales representative
Kemex
.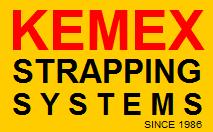 Datasheet HKE HEAVY DUTY
Strapping Tool for Steel Strap
(Sealless-Joint)
.

The specialist for heavy duty applications.
.

"No seal joint" Technology.
Datasheet HKE
Heavy Duty
Strapping Tool for Steel Strap
Chart of types model HKE Heavy Duty
Kemex
Strapping Systems 1850, Transcanadienne,
++++.
Dorval (Québec)
+ + .
Tél:
514-685-1119

++++. .

800-755-3639

+
..
Fax: 514-685-2228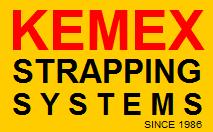 Strapping Tool for Steel Strap - The manually operated tool:

The HKE HEAVY-DUTY is equipped, like all other tools of the range, with the patented joint mechanism, thus minimizing the effort offorming the joint. This becomes noticeable for the HKE range espcially for heavy duty applications in combination with 19 x 0.8 mm MEGABAND.

The HKE Heavy-Duty furthermore has a torgue limit which guarantees aconstant tensioning capacity.


| | |
| --- | --- |
| | Sealless |
| Weight: | 4.3 kg |
| Strap tensioning: | 6,000 N |

Kemex
Strap widths

:

19 mm / x/x"

Strap widths

:

19 mm / x/x"

Strap thickness

:

0.6 - 0.8 mm / 0.023 - 0.031"

Strap thickness

:

0.6 - 0.8 mm / 0.023 - 0.031"

Tensile strenght

:

up to 900 N/ mm

Tensile strenght

:

up to 900 N/ mm