.
For the prices or for order, please contact your sales representative
Kemex
.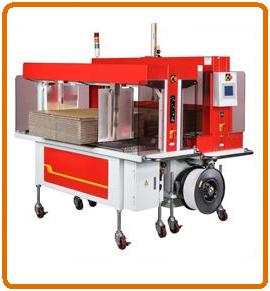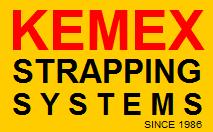 Datasheet TP-701CCQ

Fully automatic Strapping machine
(For Corrugated Industry)
(CORRUGATED STRAPPER with BUNDLE SQUARER)
.The TP-701CCQ is a fully-automatic strapper with high strapping productivity and the most cost-

+ ,

effective bundle squaring solution for the corrugated industry.

.

Compact Mechanical Strapping Head:




+

The corrugated strapper TP-701CC uses latest multi DC brushless motor technology to provide the +highest level of accuracy currently available in the strapper industry. With 30% fewer parts than +comparable strappers, TP-701CC requires fewer adjustments, has fewer wear components and +requires less maintenance. The simple design of the TP-701CC makes maintenance training far +easier than previous strappers.
.Adjustable Table Height:


+

The table is adjustable to any height between 750 mm and 1100 mm.
.Siemens PLC Control:


+

Provides easy trouble-shooting. With touch panel (HMI) for operating instructions, adjustment, and

+

trouble-shooting guide. User friendly.
.Hinged Top Plates:


+

Opens wide for quick cleaning, inspection, and maintenance of strapping head, strap-feed and

+ + + ,

tensioning unit.
.Waist-High Auto Strap Feeding:


+

Friendly design to feed the strap automatically from the upper side of coil without the need to access

+

to the bottom of the machine.
.

Auto strap ejector
.

Patented jammed-strap ejection device
.

Full-width pneumatic press
.

Single, double, continuous strapping or transit mode
.

Knurled roller-driven table top
.

Variable conveyor speed
.

Strap end ejector
.

Adjustable pressure on press bar and squarer
Datasheet TP-701CCQ
Fully Automatic Strapping Machine
Chart of types model TP-701CCQ
Kemex
Strapping Systems 1850, Transcanadienne,
++++.
Dorval (Québec)
+ + .
Tél:
514-685-1119

++++. .

800-755-3639

+
.,
Fax: 514-685-2228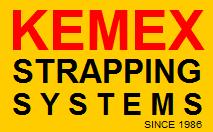 Strap Width
:
+++++++..++,++
5 mm, 6 mm, and 9 mm strap
Strap Tension:
+++ ++++.+++
8 kg to 35 kg
Net Weight
:
+++++,++++++,.++,
975 kg
(Model KS-701CCQ-L)
Electrical Requirements:
+.,,,
110V, 220V, 230V, 380V, 400V
.,
50/60Hz 
.
1PH or 3PH
Light tree alarm (dual lamp)
Speed:

++++++ +++++++..+.,+,
24 bundle/minute (single strap)
+++++++++++++++++++++++,
14 bundle/minute (double strap)
+++++++++++++++++++++++,
(Model KS-701CCQ-L /1650x500)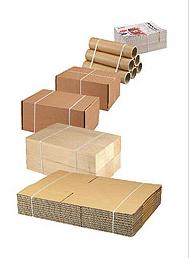 Light tree alarm with low strap sensor (triple lamp), operator friendly
Table Height:
++++++++++..,+,+
750 mm-1100 mm
Pneumatics Source:
+++++++
6 bar
Air Consumption :

++++++++
,
15 liter/cycle
Minimum Packaging Size:
+
300 mm(L) x 200 mm(W) x 20 mm(H)

Squaring + Strapping Combo Model